Dragon's sea trout lures
Category: Articles
Written by DRAGON
SPIS TREŚCI
Sea trout may be deep or shallow in the river. Nobody knows that, when comes fishing. It occurs during the " action", as experts say.
Our Pomeranians rivers offer us beautiful and attractive fisheries, you can be bored here. Angler can relax observing fantastic landscape. Coming back to the point, what to put into the end of a rod to catch a fish.
In our region many anglers produce lures by themselves and the effect of their work are offered during competitions. How much are they? I have to admit that they cost a lot. What an angler from the middle and the South of Poland should do? He can use Dragon's lures which are available in all Polish shops with fishing equipment. Dragon offers the lures made by the best specialists in Poland. They are perfect for Polish rivers. You can fish in all the rivers in Poland and be satisfied with spinning effects.
Spinners
They are very effective lures, used not very often, because they are more expensive than spoon lures. In our company price is at the decent level. They are made in the workshop of the best Polish craftsmen.
TIGER
Specially designed body immediately drag the spinner in the deeper level even in the rapid river ( there are lots of them in our region ) and it is very similar to little fish. All the important parts of the spinner are carefully prepared for the lure to attract the fish in all conditions. Colours are perfect for sea trouts, salmons, perch and pikes. There are two versions: Standard and a little more expensive de Luxe- this is standard version with a little tunning, such us the use of polished wire and polishing another elements which are responsible for starting. Very important feature of this spinner is its weight. We offer Tiger in such sizes: ( size/ weight ): "4 – 21g", " 3 – 16g", " 2 -10g", " 1 – 6g". Retail price: 7 – 13 zł.





COBRA – super deep runner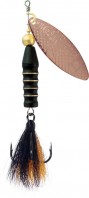 If no matter why, the current raises Tiger spinner or the high level of water in the river enable bringing the spinner to the bottom, you have to choose Cobra - nr 3 is heavier than nr 4. The term super deep runner means the same what it means in wobblers - the spinner immediately achieves the deepest spheres in the rivers. It stays there, does not mind rapid current. Keeping this in mind, anglers should always have few models of Cobra. In many cases, the lack of this spinner , make it impossible to catch something in the rivers from our region, and many fisheries in Europe. In the Pomeranian's rivers the lure is leaded with the current and against the current as well. Cobra is perfect for that. It is very good when fishing for sea trouts. Available in two versions: Standard and de Lux. We offer Cobra in such sizes ( size / weight ) "3" – 22g, " 2" – 17g. Retail price: 9.50 – 14 zł.

Veltica & Viper
They are perfect, very effective spinners which give fish in lowland and mountain waters, lots of anglers fish for sea trot with them. It is worth to familiarize yourself with them, even if they are called all - purpose. Veltica will meet expectations of very fussy anglers.
Spoon lures
We consequently sustain the offer of classic pattern, because…it is classic and the lures from this group are always effective. The precision of workmanship is important.
SEA TROUT
Perfectly matched thickness of the metal sheet, 15 colour versions, you really have a lot to choose. For spoon lure to be effective it is not enough to make it in a proper way, it should be lead in an attractive way for fish. It is angler's job.The sea trout is offered in two thicknesses of the metal sheet ( 2 mm and 2.5 mm) weight 17 g and 22g. Retail price: 7 – 9 zł.
MADMAN

Innovative spoon lure, incredibly effective on the sea and lake when fishing for sea trout and salmon. Its good side is the possibility of modeling its shape, because metal sheet is plastic and it subjects the fingers of anglers. It very easily adapts to the conditions on the fishery. The spoon lure works perfectly when presenting in one depth level. Narrow body and large mass ( to 25 g ) enable penetration of the deepest rivers. Madman is offered in such sizes ( size / weight ): " 001 " - 15g, " 002" – 20g. "003" - 25 g. Retail price: 13 – 16 zł.
Waldemar Ptak