Specialist FD 1030i surprised me.
Category: Articles
Written by Krzysztof Kriss Tonder
Choosing equipment, especially rod and reel I pay close attention to make everything fit together. There is small problem with the rod because not only each element must fit together but also it must fit to the fish and fishing technique. In my case the reel must fit the blank not the other way round.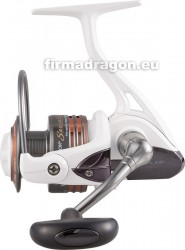 When choosing equipment I cannot forget that the reel must harmonize with fish, which I am going to fish for, othrewise you can get tired trying to catch a perch with 40 ( 4000 ) reel. This kind of approach does not suit to the slogan " Fishing is relaxing". That is why I am looking for something what will fit whith its dimensions and weight to my expectation. In Dragon's offer you can find Specialist FD reel with three sizes: FD 1020i, FD 1025 i, FD 1030i. Now I am using model FD 1030i, I' ve been taking it for fishing for trouts since the beginning of 2016 season. Now I can say that I am really pleased and even surprised by this reel from few reasons. The beginning of the season, especially first days of January were very cold, terribly cold. Locally temperature dropped even to - 12 C, and that was when me with my Specialist Fd 1030i was traversing the riverbank looking for streams and take my word that with temperature -10C I did not notice changes in its work. I was still working slightly and silently, I must emphasize here that temperature was below - 10C.
The body is made from superstainless, and this element put the reel on the higher shop shelf. The gear is very strong, is in complete with 2 duraluminum spools, 9 ball, closed Japanese bearings made from stainless steel. I used line for trouts and winding was perfect. When it comes to its work over the water with the sue of different baits, it works like " butter with vaseline ". There is one thing which I do not like about this reel, it is its colour, because in the offer is only white, but this is not a problem for me, you cannot have everything what you need ;) I do not want to talk about technical details, I do not know what the company put inside the reel, which materials they used , but taking its efficiency during hard conditions into consideration, honestly speaking, it is worth our attention. Now I take only this reel with me when I go fishing and I use it with real pleasure when fishing for trouts.
Krzysztof Kriss Tonder
Team Dragon