With finesse solid tip rod by the river
Category: Articles
Written by DRAGON
SPIS TREŚCI
Summer is passing, and for lots of us the weather which is rather changeable has its influence on weaker scores. Despite colder weather the fish behave rather chimerical and they lack summer aggression, which can be felt on the rod. In these situations I am safe because of delicate rod with power supply, precisely made and beautiful to look at.
First impression
You do not have to be a great fan of tip spin rod to use it. These are the rod for learning how to recognize the bites, contact leading of lure. The rod which I got into my hand is the rod from well known FISHMAKER series with a modest name Sensitive Jig. Precisely the rod with length of 2.45 m and casting weight 1-7g. Together with the rod I used Fishmaker braid with diameter 0.06 mm. despite tiny diameter I was not limited, I was rather surprised by the casting possibilities - the head with 2 g mass plus the mass of the lure could fly like a shot on a given distance. I started my fishing from ubiquitous perch, but it was difficult for me to provoke at least some fish to attack - a tip of a rod was a great help here - it is a kind of signaller which can transmit to our eyes each unnatural behaviour of the lure and bite of course.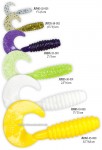 The tip is probably the most important part of this spinning, together with a proper number of guides ( 10 ) it is characterized by very nice action and bend while fighting. It is very good rod for a person who just starts his/her adventure with this kind of equipment and even for a laymen who starts his/her fishing adventure. The rod was perfect for my up to 7g lures, but for my hand the most comfortable were these with 2 and 3g jig heads.
Predatory perch

During one of my perch trips I reminded myself about an interesting place. It was a ditch with 3,5 m water, the concavity was quite short, about 2 m. Seemingly unattractive place, but the seabed attracted the perch some time ago. The night was coming, and it seemed to be a perfect sunset, when the rays reflected from the water surface made my feel delighted.
At 9.30 p.m. I am on the position, I want to cast 10 times and come back home. I am casting energetically with JUMPER, micro size, colour fluo and I am waiting patiently for the rod to reach the bottom. I am jerking a jighead few times from the sticks which can be found on the bottom. The weight of the head is barely 2.5 g but I can feel it perfectly even at that depth. During another jerk, I can feel resistance and pulsing fish, I am sure that this is not a perch. When I fish out the fish, it turned out to be a bream. I have not caught a bream for spinning for 2 years. You can use this spinning rod for rudd and perch, we should use light and ultra light lures, I am thinking about ide, chub and roach because they in bright sun like to eat our spinner or slowly leading wobbler. Believe me or not but small wobbler leading on this spinning rod works quite well.
Perch from shallow water.

I do not hide that the Odra river is not the river with big perch. You can get a " pearl ", but these situations are not frequent. The size of the caught fish do not exceed 20 cm. This size do not bother me and when I want to spend a nice afternoon over the water I go on perch which can be found on the rocky bank. The rod which allows me to have fun from such fishing should be very delicate and durable at the same time. Fishmaker II turned out to be perfect rod for fishing from one meter water, with very light jigheads. I was suppose to send my 1g lure far enough, not to scare school of fish. The fight with 20 cm fish can give you a lot of fun even though it is " only " regular perch.
The easiest way to catch them is spinner, its work is well visualised on the tip , but when the perch was attacking the action of the spinner was weaker and the jerk was perfectly transmitted to our hand, and even more visible. The rod gave me a lot of pleasure, reminded of my childhood time, while standing with my first tip spin rod on the bank of the Odra river, I was learning spinning. I will keep Fishmaker II for long time, and every now and then I will go fishing only with this rod. Vibrating tip in spinning fishing is great fun.
Adrian Polakowski